Optimized Efficiency with Minimal Impact on the Environment
The goal: A sustainable Transport System
Operations at King Abdullah Port are designed to minimize environmental impact, promote good environmental practices, and ensure the port's successful functioning in the future.
At the same time, we recognize that activities within the ports should be carried out in commercially sound ways. Thus, all developments are managed to optimize the port's efficiency, while minimizing the risk to, and impact on the port's surrounding community and environment.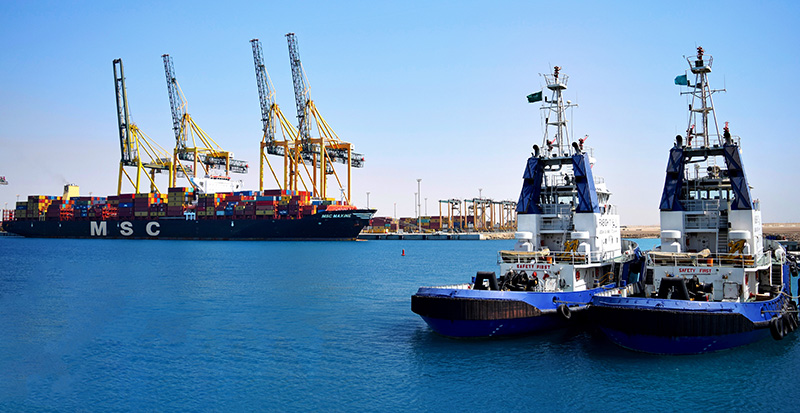 Healthy Seawater and Marine Life
The innovative design of King Abdullah Port cuts down on sea swell, contamination, and unnecessary temperature change from any projected port use.
Our drainage system is designed to catch all storm water and transfer it to a treatment unit to avoid transferring any poor-quality water to the sea. The basin water is monitored by specialized environmental laboratory to ensure that the water quality is within predetermined parameters.
We have also carried out all necessary arrangements to protect marine life in the area. The latest environmental monitoring report, conducted in July 2013, confirmed that all environmental factors in the vicinity of King Abdullah Port are healthy.
All construction at King Abdullah Port is carried out, as far as possible, in covered and confined systems to mitigate the environmental impact. We have obtained the Presidency of Metrology and Environment (PME) operation permit for King Abdullah Port's operational activities.
We strive to eliminate discharges and omissions that could harm the environment. Highly sensitive equipment is used to monitor air and water quality on the entire King Abdullah Port site.
Should a pollution-related incident ever occur, our oil spill emergency procedures, response equipment, and highly trained personnel are in place for a rapid, effective response.
Additionally, we have worked to integrate our environmental plans with all relevant national plans, and to ensure compliance with all applicable environmental laws.
Safe Handling of Dangerous Goods
The port follows all dangerous goods legislation, and we implement regulations diligently in order to maintain safe and efficient handling of all cargo.
We always pay attention to potential environmental sensitivity, minimizing our use of raw materials, toxic substances, energy, water, and other resources – and we encourage other port users to adopt similar policies.
Awareness is key to success in sustainability, because everyone has a role to play. Our ongoing training programs and exercises for employees and port personnel help ensure we maintain a high level of environmental and safety awareness.