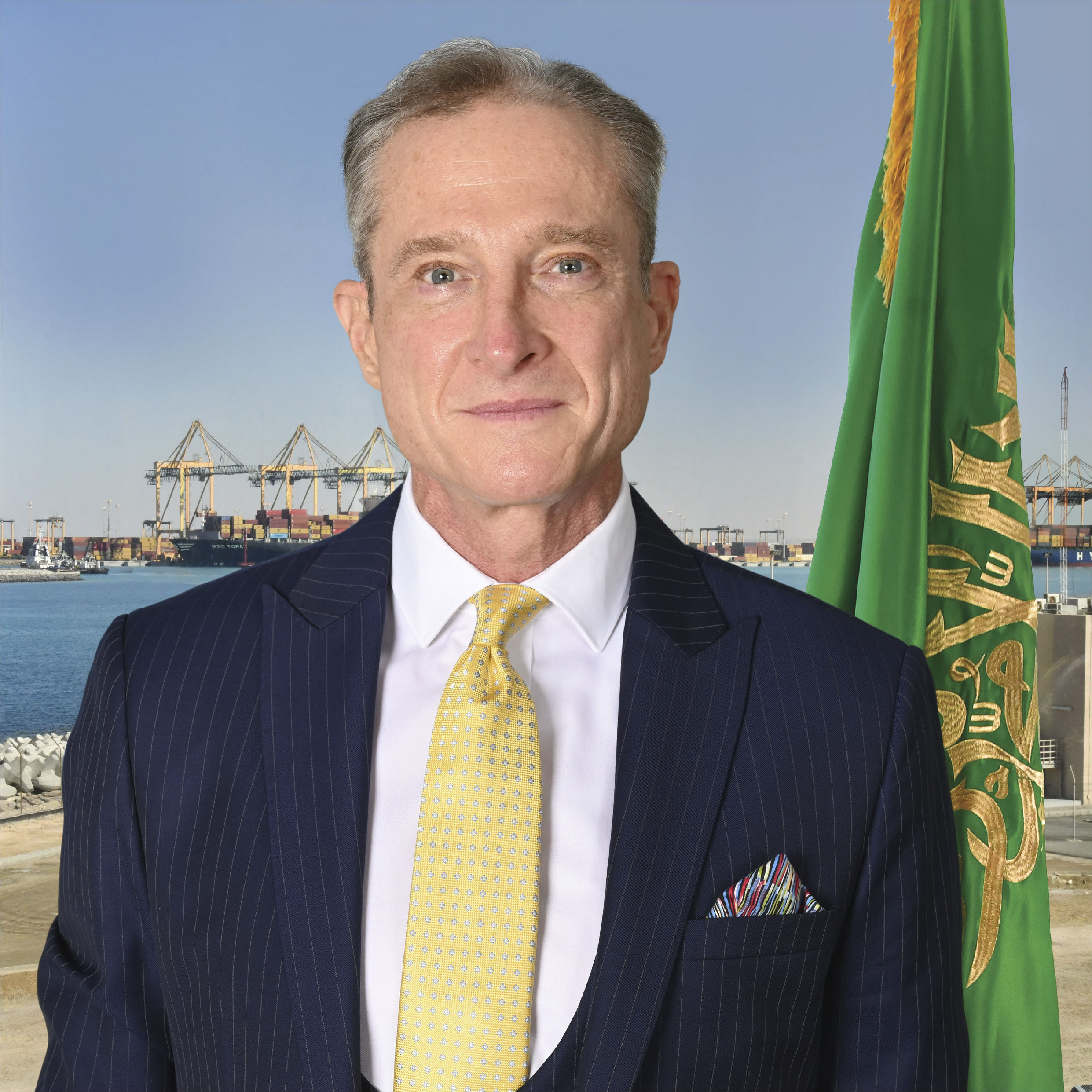 Mr. Jay New joined Ports Development Company in April 2021 as a Chief Executive Officer. As PDC's Chief Executive Officer, Jay is responsible for accelerating King Abdullah Port's growth and strengthening its role as the leading regional logistics hub, and enhancing its contributions to the national economy, in line with the Vision 2030 objectives.
Mr. New is a seasoned professional with over 20 years' of experience in the ports, shipping and logistics environment, having served in many leading positions at Director and "C" level with  Hutchison Ports, Maersk Line, and Gulftainer. .
Mr. New holds a B.Ed. from the University of Leeds and is an ADP graduate in Business from the London Business School.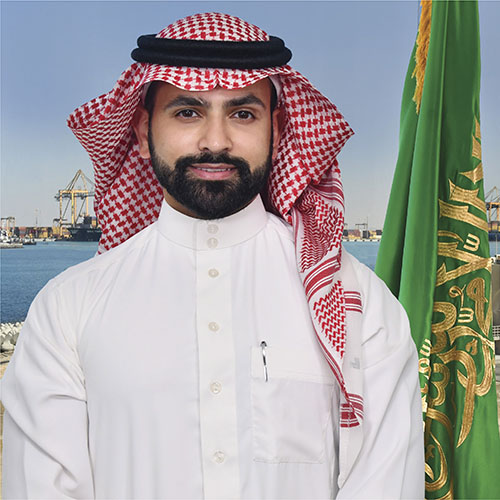 Eng. Muhammad AlShehri joined Ports Development Company in 2013 as the PMO where he led the project's delivery. In 2017, he became responsible for the External Affairs where he successfully finalized the negotiations with the government agencies in the port.
In 2018, he joined PIF (Saudi Public Investment Fund) to work on Saudi Vision 2030 projects. He then moved on to NEOM, Saudi's Vision biggest endeavor, as the Projects Manager where he worked on delivering the initial phases of the project. In 2019, he was rejoined Ports Development Company executive team where he is overseeing the operations at King Abdullah Port.
Before joining Ports Development Company, he worked for Aramco, Airbus Defense, and NEOM, working in Oil & Gas, Industrial, Agriculture, Supply Chain, Logistics, Ports and Military Projects with a proven track record in realizing initiatives, leading & integrating multiple teams, establishing/adopting processes, escalating & resolving strategic risks & issues, and delivering business benefits aligned with the organization's strategy & vision.
Eng. AlShehri holds a Software Engineering degree from King Fahad University of Petroleum and Minerals and has 13 years of experience in multiple industries.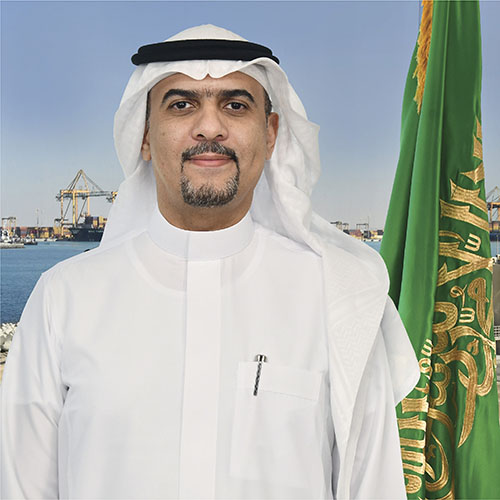 Mr. Bassam Fathi joined Ports Development Company early 2018 and leads the commercial department and building the relations with all stakeholders in terms of shipping lines, consignees, shippers & logistics providers. Alongside finding alternative logistics solutions, strategizing commercial approaches and engaging customers and logistics service providers with the port technology solutions.
Mr. Fathi has more than 20 years of leadership and management experience in logistics multinational & local companies and in different sectors from FMCG's, Spar Parts, equipment's & Vehicles, insurance operation, retail and most handed logistics functions from warehousing, transportation to Seaports.
Before joining PDC, he worked with SISCO group as General manager of Isnad company, a sister company to Redsea gateway and LogiPoint at Jeddah Islamic Port. Prior to that Fathi served in several companies from Procter & Gamble distributor in Saudi Arabia to Gulf warranties LLC.
Mr. Fathi holds a BS degree in MIS from King Fahad University of Petroleum & Minerals  and several training courses from well noted universities such as MIT- Massachusetts Institute of Technology and several international training houses.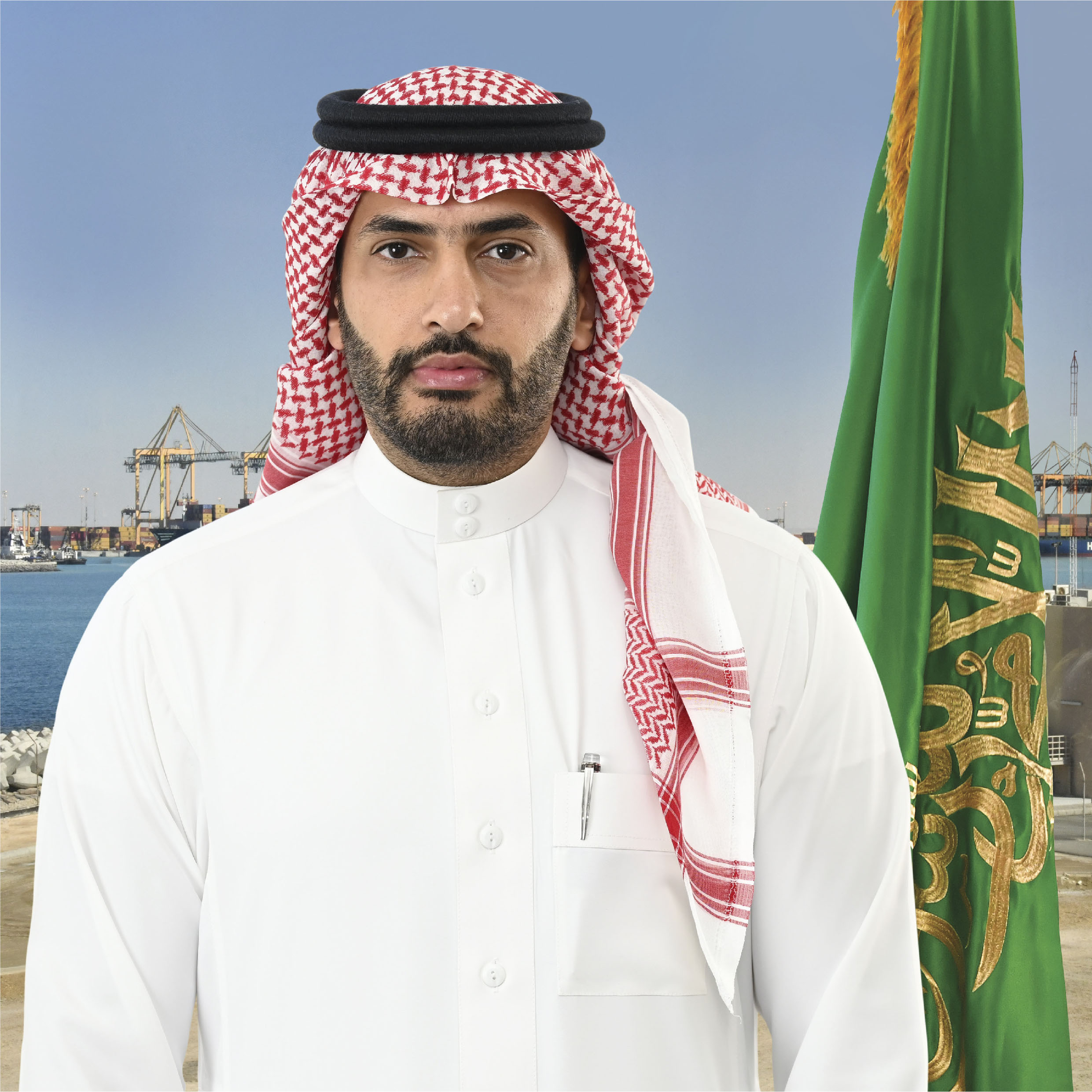 Mr. Badr Faisal Nadershah joined Ports Development Company as Head of Human Resources in 2022. He has 14 years of experience in human resources management, training, management and development.
Mr. Nadershah is responsible for strategically supporting the ambitious growth of Ports Development Company, as well as attracting and retaining talent, and implementing best practices for human resources management.
Prior to joining Ports Development Company, Mr. Nadershah held the position of Business Partners Manager for Human Resources at Al Zahid Group of Companies. Prior to that, he held the position of Human Resources Manager at General Group Equipment Company Ltd.
Mr. Nadershah holds a BA in Organization and Administrative Development from King Abdulaziz University.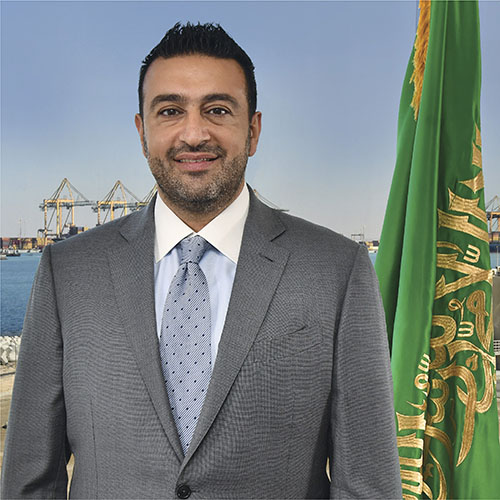 Mr. Khaled Hasan Shalha joined Ports Development Company in 2013 as the Marketing Head, bringing with him over 20 years of senior leadership experience in marketing and communications strategies.
He is responsible for designing and implementing bespoke marketing strategies that focus on increasing Ports Development Company flagship project "King Abdullah Port" penetration within the ports industry, and developing new business opportunities. Mr. Shalha has represented the company in various regional & international conferences & exhibitions.
Mr. Shalha joined PDC from Ogilvy, where he was a Regional Accounts Director, responsible for managing the agency's consultation and marketing work for a diversified portfolio of brands. Prior to that he served as an Account Director at Euro RSCG Arabia.
Mr. Shalha holds a B.S in Business Administration with Marketing emphasis from the prestigious Lebanese American University, Beirut.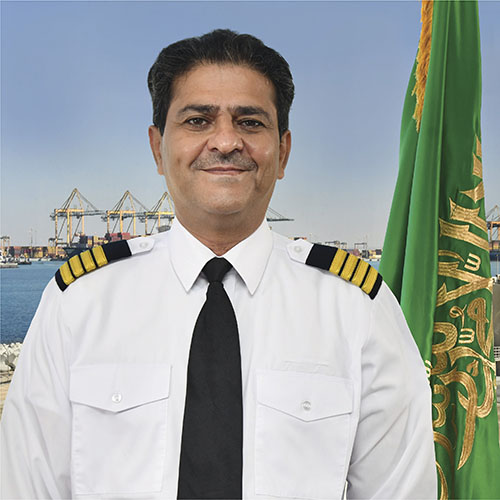 Captain Assem Ashary joined Ports Development Company in 2013, bringing with him 30 years of experience in shipping industry and ports marine operations. He is responsible for the provision of a safe high quality marine services to vessels visiting King Abdullah Port.
Prior Joining PDC, Captain Assem served as the Executive Director for Abdurrahman Atturki Company ATCO (the marine services provider in Jeddah Islamic Port), as a ship's Captain then as a Marine Superintendent for Vela International Marine in Dubai – UAE, as a deck officer and then as a Port Captain for Bahri, and as a Sea Pilot for Jeddah Islamic Port.
Captain Assem holds an Over Seas Master Certificate.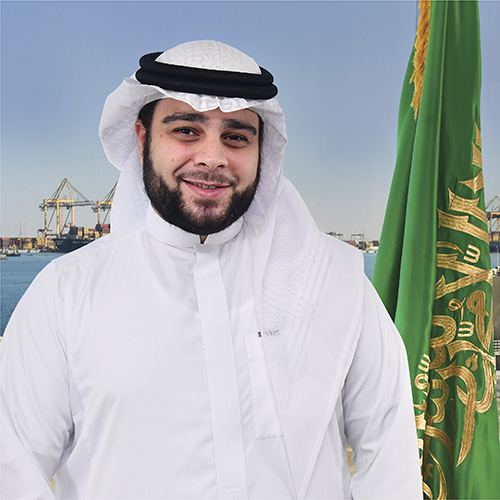 Wyssam H. Bashawri
Senior Business Development Manager
Mr. Wyssam Bashawri is a cornerstone of the Business Development department at Ports Development Company since November 2013. He is responsible for consolidating the company position as a master port development and support company for one of the leading ports "King Abdullah Port" in Saudi Arabia and the region.
Mr. Bashawri carries more than 7 years of experience in port expertise, supply chain, business expansion, turnaround ventures and sustainable innovations.
Mr. Bashawri holds a Bachelor Degree in Finance from Canterbury University (NZ).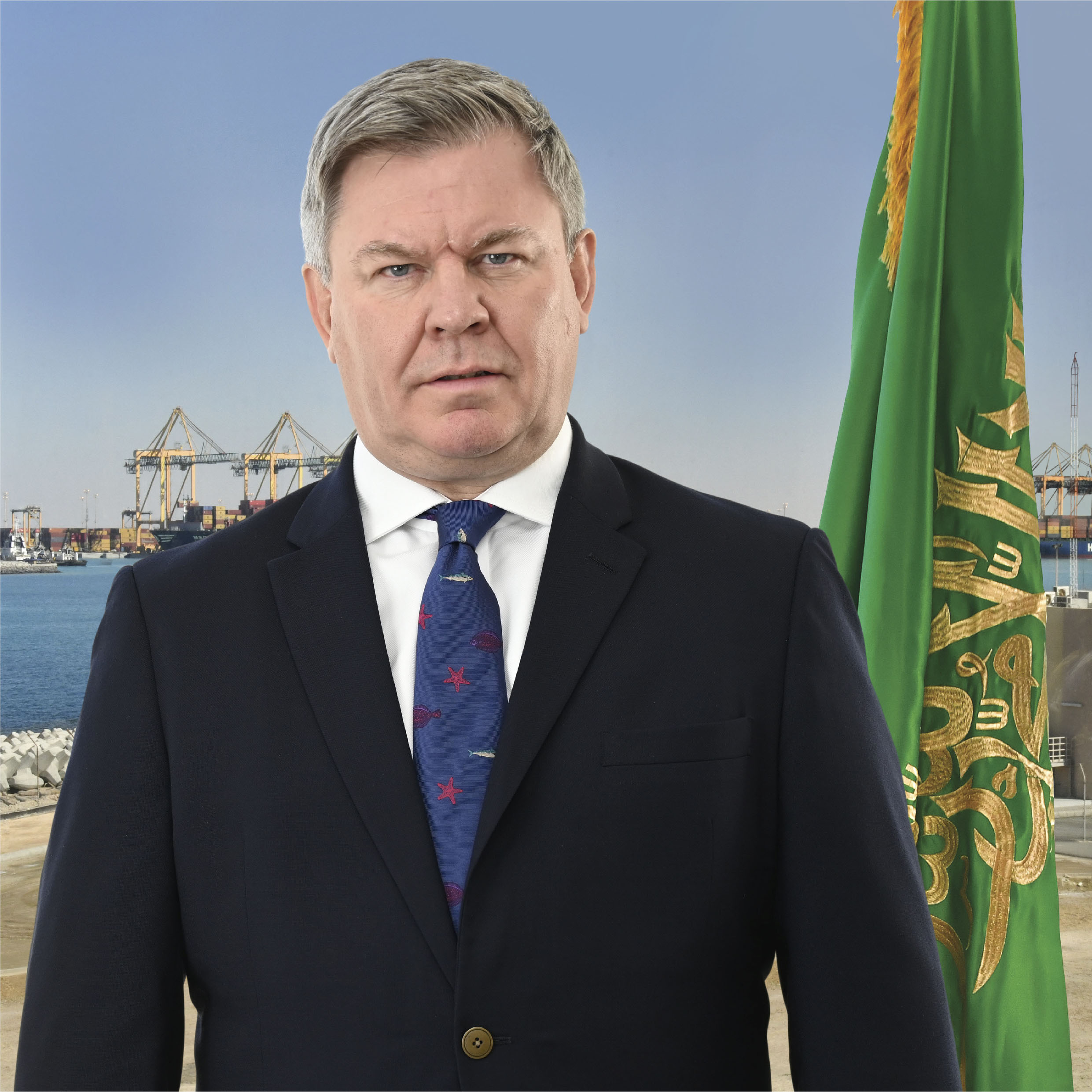 Mr. Richard Blair joined Ports Development Company in June 2021 as Chief Legal Officer. As Chief Legal Officer & Company Secretary, Richard is responsible for Ports Development Company's legal and commercial risk management and corporate governance, closely supporting the CEO and Ports Development Company Leadership Team to develop the strategic growth of King Abdullah Port.
Mr. Blair is a solicitor in England & Wales, an Attorney in Spain, and a Licensed Legal Consultant in the UAE. He has over 25 years global legal experience as Group General Counsel and Chief Compliance Officer in heavy industry sectors such as ports and logistics, oil and gas exploration and midstream LNG, steel, solar, rail and environmental services, in BP plc, BG plc, Harsco Corp, and Gulftainer.
Mr. Blair holds an LL.B in English & Spanish Law from the Universities of Kent and Complutense, Madrid, an LL.M in Commercial and Corporate Law from Kings College London and an MBA from the Centre for Law Firm Management at Nottingham University.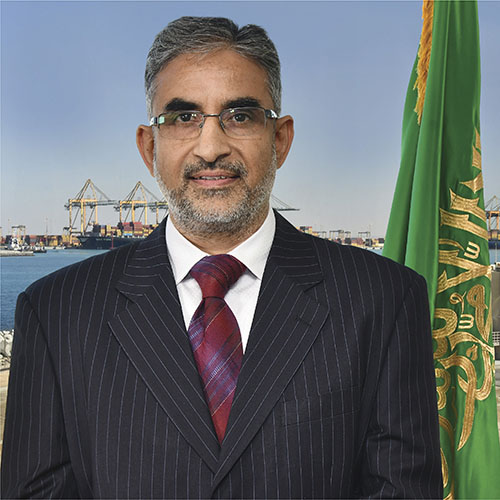 Imtiaz Hussain Shah
Head of Engineering & Facility Management
Eng. Imtiaz Shah joined Ports Development Company in 2013 to lead the successful delivery of master planning and design of King Abdullah Port which is currently handling container and bulk cargos and shall handle RORO in future. He is currently Head of Engineering and Facilities Management for King Abdullah Port. In his role, he is responsible for overseeing the strategic integrated approach of maintaining, improving and adapting facilities and supporting infrastructure to create environments that strongly support King Abdullah Port's primary business objectives.
Before joining PDC, Eng. Shah spent three years (April 2010 till April 2013) with Jazan Economic City for the delivery of major infrastructure projects in JEC. It was a USD 30 bn mega project and involved diversified projects like heavy industries, secondary industries, residential and commercial units, port, power plant etc.
Shah is a highly driven Development and Infrastructure professional with proven technical and management experience of delivering mega-scale high value infrastructure and development projects covering Port Master Planning, Logistics zones, business service zones, expressways, roads, utilities, marine works, etc. He has an extensive experience working on some prestigious projects in the Kingdom of Saudi Arabia, which include Hajj related projects as well.
Eng. Shah holds a bachelor's degree in Civil Engineering from the National Institute of Technology, Srinagar (University of Kashmir, India). He is a member of Saudi Council of Engineers.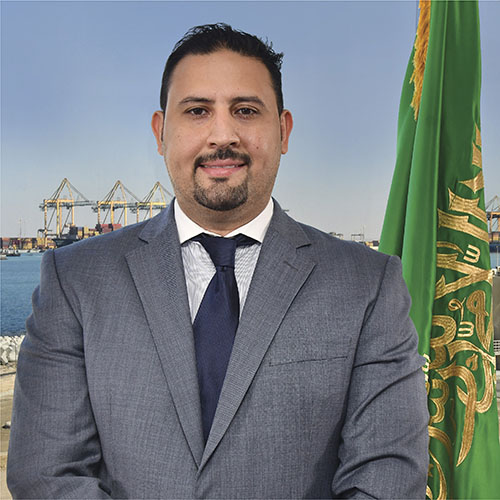 Ahmed Fouad Mohamed
Head of Internal Audit and Audit Committee Secretary
Mr.  Ahmed Mohamed joined Ports Development Company as Head of Internal Audit and Audit Committee Secretary in September 2014.
Mr. Mohamed reports to the Audit Committee of the Board of Directors on matters related to internal controls and compliance with laws and regulations. He also reports to the Top Management on issues related to risk management.
Mr. Mohamed spent more than Ten years in the Public Audit Firms Deloitte, PwC & KPMG. Before joining PDC, he was an Audit Manager in Deloitte & Touch.
Mr.  Mohamed holds a bachelor's Degree in accounting and Business Administration with Accounting emphasis from Helwan University, Egypt.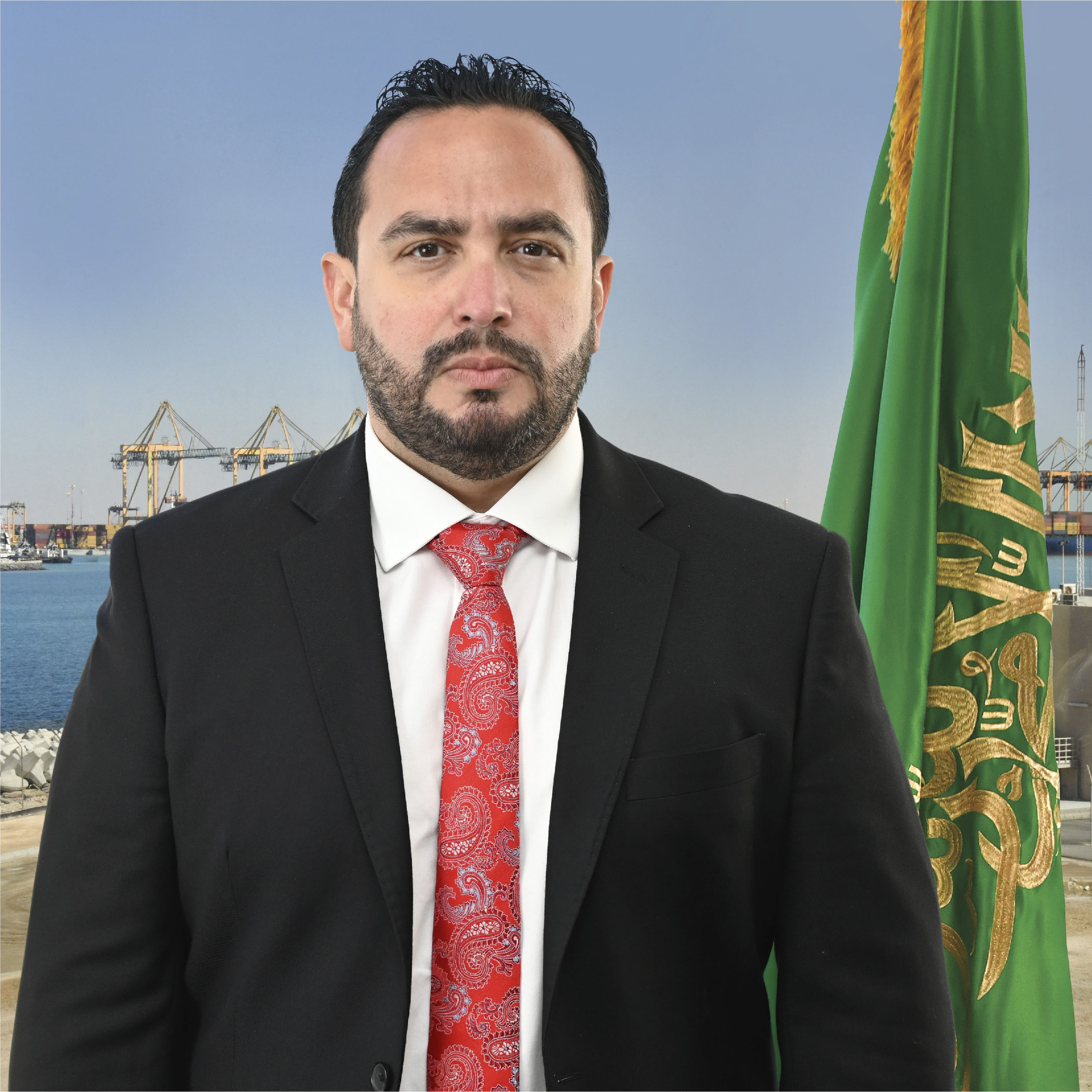 Julian Arriaga Mendoza
Head of the Bonded & Re-Export Zone
Mr. Julian Mendoza leads the company's bonded zone and logistics hub, with responsibility for all revenue generation activities, products, and services offered across the 1m sqm bonded area within King Abdullah Port.
Before joining PDC in November 2021, Mr. Mendoza's work experience spans over 20 years in several locations around the world, mainly in Asia, Latin America, Africa, and the Middle East.
Throughout his long and successful career, Mr. Mendoza has handled numerous management positions in blue chip companies like Maersk, APM Terminals, and CMA CGM where he contributed to the development and expansion efforts of these companies.
Mr. Mendoza holds a degree in Business Administration from the Universidad de San Pedro Sula as well as two business management degrees from the Copenhagen Business School and ESADE Business School. Mr. Roeland van Beers joined Ports Development Company as Chief Financial Officer in December 2021.
Prior to King Abdullah Port Mr. Van Beers has held various financial leadership and business development roles for A.P. Moller-Maersk, a Danish container logistics company, in Rotterdam, The Hague, the Port of Tanjung Pelepas (Malaysia) and most recently the Port of Salalah (Oman). Prior to Maersk, Mr. Van Beers worked in commercial real estate development based in Italy, Germany and his native The Netherlands.
Mr. Van Beers holds an M.Sc. in Economics from the Erasmus University of Rotterdam and has completed advanced finance programs at the Nyenrode Business University. Mr. Van Beers is a member of the Dutch Association of Register Controllers.